Most people spend a great part of their lives searching for that one precious thing. After years of searching however; they soon realize that what they've been looking for has been right in their pockets the whole time!
Don't be that person please! Looking for an outstanding monitor for the ultimate work-home experience? The Zinox Quantum AIO Monitor might just be the perfect dose of 'durability' you need. 
Product Specs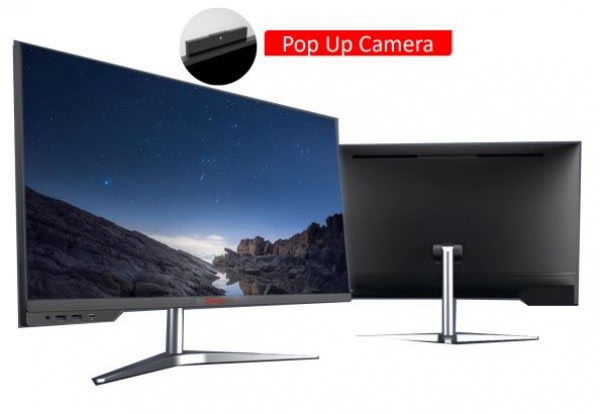 The Zinox Quantum AIO Monitor offers all the style, performance, and sophistication you would ever need in a monitor without as much as breaking the bank. Sold at a discounted price of N262,500 Only, this high end monitor offers multiple possibilities and is built to the most refined of tastes.
This AIO desktop is well equipped with high definition (HD) display that guarantees a rich and detailed experience. Crafted to a maximum resolution of 1600 x 1000 at 60 Hz, this model offers the most brilliant and ultra clear visuals for an unforgettable experience. While you enjoy great visuals, you also get to experience the wide-viewing spectrums, and convenience that only premium tablets and mobile devices can offer.
Alongside it's Ultra slim adjustable micro-edge design, the Zinox AIO is fit with Intel's high powered Core i3, i5, and core i7 processors for increased productivity and efficiency. More so, with this all-in-one monitor, your storage possibilities are endless.
Not only do you get to enjoy an expandable and  easy to configure 4GB RAM; you are also at liberty to conveniently shuffle between work and play because its capacity is stretchable to as high as 32GB thus accommodating all the files you will ever need. An additional capacity of 1TB HDD and up to 512GB (SDD) sets this out as the monitor to have. 
In addition to the features listed above, a broad range of ports and dongles including HDMI, Display port, and even VGA ports, makes it easy to connect this AIO monitor to another PC, or gaming console for wider screen entertainment. 
3 Factors To Consider Before Getting A Monitor
Before you go ahead to make purchase, here are 3 key factors to nail your choice.
Size
Big screen monitors are one convenient way to get more usable space without minimizing or closing your windows. The Zinox Quantum AIO Monitor measures a whooping 23 inches wide as such, remains a worthy pick. 
Features
All monitors are not equal. In addition to the host of inbuilt features within, the Zinox Quantum AIO Monitor comes with a semi-swivel base that lets you adjust your screen to whatever direction you want. 
Budget 
Contrary to popular belief, value is most times not directly proportional to cost. The Zinox AIO Monitor offers you great value at a budget friendly price of N262,500 Only so you better hurry while stock lasts.
See also The Best Inverter batteries to power your appliances in 2021. 
Visit Konga.com or walk into any Konga retail store near you for more enticing Offers.