A great coffee maker is an essential addition to any home or office space. Studies show that more than 5 out of 10 persons, rely on a daily cup of coffee to get off to a good start. Are you one of the many coffee lovers?  Does the word 'cafephile' politely describe you? If your answer to these questions are in the affirmative; then you just might want to check out the unique Itec Coffee Maker with warming function.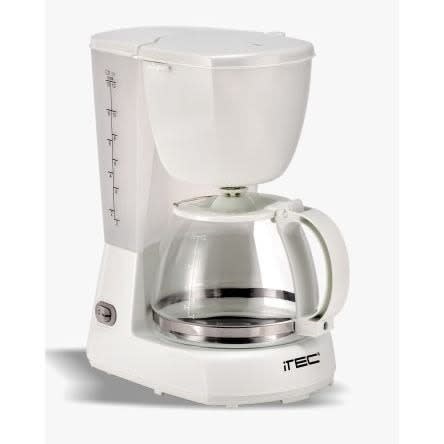 Product Specs
This simple and convenient 'space saving' design comes with value-adding features as well as a host of helpful functions to let you enjoy delicious coffee on the go. With a detachable and easy to clean translucent water tank. A pot size measuring about 1liter in capacity, and a simple operation panel, you can conveniently brew as much as 5 cups of coffee at the simple flip of a switch. 
Not only is it's high quality tempered glass 'carafe' vacuum sealed; It is thick walled and inbuilt with a distinctive 'stay warm' feature to keep your coffee at optimal drinking temperature for up to 2 hours after brewing is complete. It is also crafted in the most comfortable way possible, and made for easy handling to guard against messy spills/leaks. 
Additionally, a 750W supply unit powers this classy maker thus also leaving room for voltage and overheat protection. It includes a 19.01inch cord for easy reach to the nearest power socket and for safety purposes, this cord is carefully tucked away in the back of this appliance. 
Enjoy rich flavor extraction with the brew selector feature. This feature lets you brew to your taste(regular or strong) alongside a reusable filter that is easy to clean as opposed to disposing after every use.
Why Indulge In Coffee
Amongst the many benefits of deliciously brewed coffee, did you know that having a cup of coffee about an hour before a workout or performance can improve your output by as much as 20%? 
Tying to loose weight? Then you are so lucky to be reading this. Coffee has proven to help with weight loss as well as regulate blood sugar. More so, coffee contains a host of antioxidants that work as little warriors to protect your body against free radicals. Thankfully, this quality may also lower your risk of type 2 diabetes and keep you safe in the long-run.
The key to enjoying these benefits however is MODERATE consumption. With the Itec Coffee Maker + warming function, you will certainly be on track.
Shop this at a discounted price of N3,870 only on Konga. Visit konga.com or walk into any Konga retail store near you for more Offers!