Imagine a world where you could never run out of electricity.
What if you could comfortably run huge appliances as well without as much as looking over your shoulders? How would you feel if while you are excitedly trying to adjust to this newfound luxury; you also realize that the huge electricity bills you were formerly paying are now a thing of the past? 
With the Zinox 5Kva Ipower Hybrid Inverter, all these are possible. More so, the transformer on your street has got nothing on you as this Powerful inverter sets you at an enviable edge and lets you enjoy a tranquil experience with ZERO noise.
Product Specs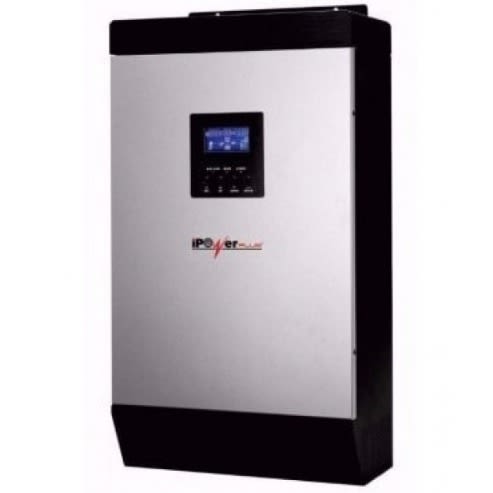 Looking for an inverter that gives you a run for your money? The Zinox Hybrid Inverter is an aesthetically sleek, easy to install, and highly efficient pick made of solid aluminum alloy, built to be able to withstand harsh environmental conditions. 
Powered by as high as 5000 watts alongside a rated power factor of 0.1 for high energy distribution. This 5kVA Spec guarantees the continuous energy flow for as long as *72 hours after a lights out. 
Crafted with an in-Built battery equalization function for maximum performance/lifecycle, this inverter can be powered by as much as *8 valve-regulated acid batteries. These can in turn support all types of modern electronics even those with sensitive load such as computers, audio/visual equipment and the like.
In event of a power outage, this 48V pure sine wave inverter is quickly able to switch to battery mode in as little as 6-8milliseconds as opposed to its contemporaries with longer transfer time. 
An inbuilt maximum tracking (MPPT) solar charge controller provides up to 20% more power to your batteries. This goes a long way to ensuring efficiencies by up to 95%. 
This simply means that with this technology in place, your batteries are safe from overheat, overcharge, and short circuit overload. With this measure in place, your inverter can conveniently regulate it's battery components at nominal levels. 
With an input frequency range of 50Hz-60Hz(Auto testing) alongside it's unique solar peculiarities. It is safe to say this hybrid inverter is your seamless solution to power interruptions both at home and in the office space.
How To Shop
Inverters are either replacing generators or are now used in combination for maximum output. Thinking of a good generator to buy? See recommendations in How to make the most of a Blackout.
Don't miss this! Get the best price on this Hybrid inverter at N224,223 only on Konga. 
Visit Konga.com or walk into any Konga retail store near you for More Offers!