Kids certainly love to play. However, keeping your little ones occupied in a fast paced world can't be as easy as most people think. In the past, playtime was synonymous to playing in the sand and getting all dirty but with advancements in technology, playtime now includes a wide range of exciting activities that speak to your little one's creativity as well as their imagination, and response to situations. Educational toys are one way to guarantee your little one's social, psychological, and cognitive development so there's absolutely no reason why you should not invest in a few. Are you an aunt? A parent, or guardian? Looking for the best way to productively occupy your little ones, and ofcourse set them on a faster learning course?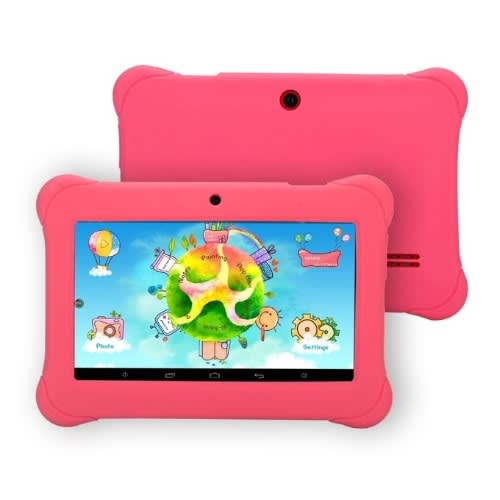 The Zinox 7" Kids' Legacy TabPro is one of the best decisions you will ever make in this regard. 
Tablet Specs
This fantastic Android 6.0 device is perfect for your kids' entertainment, learning, and productive needs. This tablet offers access to a wide range of age appropriate and up-to-date fun content as well as access to kid-safe websites designed to sharpen their flair for math, reading, creative arts, and puzzles. 
It features a 1GB RAM, and a corresponding 16GB internal storage expandable by up to 32GB with a microSD card, thus making this a unique model with fairly high capacity. 
It's capacitive and highly responsive screen is built such that it is very sensitive to touch, and totally easy for little fingers to navigate. This WI-FI enabled model is also in-built with a preload of over 50 educational games/fun apps. It's 30000mAh battery supports about 6hours of non-stop reading, videos and games. Aesthetically, it is sleek and encased in a colorful yet specially designed pouch to protect against dust, bumps and drops. 
Wondering how good the quality of it's images would be? It's 1024*800 high screen resolution, alongside it's quad core processor should answer these question. These features ensure that this tablet delivers bright colors, and super crisp images for an ultimate experience. 
Here's More
Record happy family moments, by letting your little one take pictures, selfies, and even make videos on the go. With the 3MP rear/2MP front cameras this serves as a good toy to create memories. More so, it is also suitable for travelling purposes as it would readily serve as a worthy companion. 
In this jet age, everyone deserves a good tablet at their disposal; And your little ones should not be an exception to this development. Save money when you gift this to your favorite little one at N22,500 Only. 
Also see : 5 Smart Educational Toys For Your Kids
Visit Konga.com, or walk into any Konga retail store near you for more!