Traffic jams can completely ruin your day. No one is ever prepared for an unexpected halt that leaves you on a spot for hours. These past few days in the city of Lagos have been nothing close to fun. The traffic situation is said to have left those in Automobiles, envious of commuters on bicycles. The gridlocks everywhere are a testament of the impending festivities. It would definitely ease off with time. In the meantime, however, here are a few tips to keep you sane through this season.
Communicate
A major reason people get frustrated in traffic is the delay it causes. Getting stuck in traffic would get you late for everything. As soon as you notice you are in gridlock and running out of time, make efforts to communicate. Reach out to your boss for instance, in event of work-related obligations, or your family/friends, if you are running late on social obligations. 
Google Map Was Made For Moments Like This
Before we proceed to pay homage to the inventors of google map, take note of the fact that google map was designed to get you out of directional hurdles, and traffic is one of those hurdles. Use your map to predict and navigate the best traffic-free routes. This way, you can save up on the time you spend stuck on a spot. 
Be Tactful in your Movement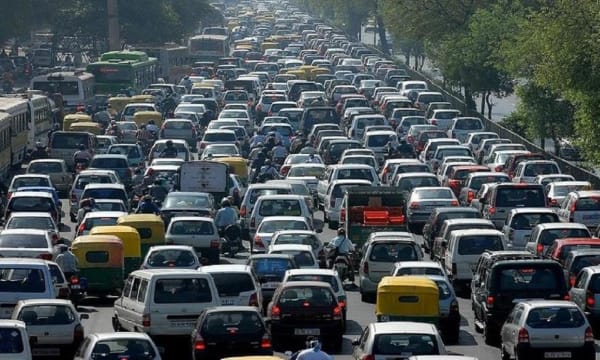 This is where being extra careful comes into play. Now is not the time to strut carelessly across town. Plan your itinerary in such a way that you get to avoid traffic prone areas at rush hour. In case you are traveling, leave for the airport at least 4 hours to departure. I kid you not, with the traffic on ground these days, even 4 hours is not enough. 
A Power Bank is Essential
I am one of those who does not mind sitting in a static vehicle for hours because I always find ways to stay occupied. Once my cell phone runs down however, a sad chapter begins. Stock up on a power bank for traffic. A cell phone is most times a handy companion. 
Stay Intune With Traffic Radio
Tune in to traffic radio for updates on the traffic situation in every nook and cranny of the town. Traffic radio never fails, and with the information they give, you can plan your routes easily. 
Carry Emergency Traffic Funds Always!
For pedestrians, I advise you always carry extra cash. Terrible traffic situations are proportional to a hike in transport fares. With the extra cash on you, it would be easy to maneuver your way in any situation.
Your Fuel Tank Must Not be Empty
Your fuel tank is not the only thing you should care about. Make sure your car is in good condition above all. Your batteries must be top-notch, your Air conditioner working fine, and your brakes too. Ask those who get stuck in traffic with a bad car, the experience is not one to reckon with. 
Mentally Prepare For The Worst 
A positive attitude is one easy way to get through uncomfortable situations. As difficult as it may be, rather than sit to grumble, take your mind off by indulging in something productive. In other words, Make a playlist you can vibe to in traffic, Eat a healthy Snack, Read a book if possible or play some games on your cellphone if you can. 
Walk Walk Walk! 
You are not a tree and there is no law stating you must remain on a spot forever. If the traffic situation you are in becomes unbearable, get out of the vehicle; and WALK! On the bright side, trekking is good for you and is a form of physical activity. If you are behind the steering, of course, you cannot leave your car behind. Step out of your car to stretch your legs once in a while, it helps! 
Get the Best quality products up for grabs in Konga Yakata Awoof this Season. Don't be left out of all the juicy deals as they roll out. Visit www.konga.com or walk into any Konga retail store near you for more. As a hack, Stay tuned to DSTV channel 189 for a live sales show tomorrow – the 23rd of November 2019 from 6pm to 8pm. Call to Cash in on all the Amazing deals you would see!
Shop Smart; Live well.