Sure you can travel anywhere for a vacation or tour. However, if you've decided to come to Lagos, Nigeria, then you've certainly made the right decision. Lagos is one of the most exciting tourist destinations in Africa. A high-spirited and historic city that provides a blend of fascinating historic sights and excellent tourist attractions.
As a traveler or tourist, when it comes to the place you're going to be staying, you surely need to find the best possible place for you. Moreso, choosing something fancier could do wonders in terms of your overall experience.
Not to worry, we have put together five hotels in lagos that are best suited not just for you, but your pocket. Most importantly, you can enjoy up to 40% off when you reserve a room in any of these top picks on www.travels.konga.com
Radisson Blu: 
First on the list is the Radisson Blu Anchorage Hotel which sits on the banks of the upscale Victoria Island. You'll appreciate the hotel's proximity to banking districts and consulates. Additionally, its proximity to several shopping malls and top Lagos attractions such as the Bar Beach makes it the perfect choice.
In addition to a serene ambiance, Radisson Blu offers you:
170 rooms and suites, all styled by Swedish designer Christian Lundwall.
Free high-speed wireless Internet and air conditioning.
Complimentary coffee and tea
International dishes or Nigerian cuisine to choose from at the on-site Voyage Restaurant
Well-equipped fitness center
Flexible rooms that all come with state-of-the-art audio-visual equipment and splendid views over Lagos Lagoon.
A massage room, steam room, and outdoor infinity pool, and more
Villa Monument: 
If you prioritize comfort, then the Villa Monument located at Victoria Island, Lagos is the right place for you. In other words, this modern hotel features:
Safari room which pays tribute to the very best of the African continent and Mother Nature
A purpose-built conference room
Fitness center
Private garden terrace
An exclusive lounge for guests to relax while enjoying their selection of drinks and canapés, and a lot more.
The Federal Palace Hotel: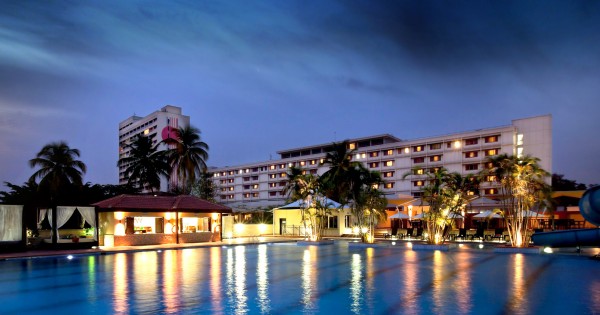 Conveniently located in the heart of Victoria Island's commercial district, the Federal Palace caters to the traveler. Additionally, guests can expect excellent service and facilities. Facilities to enjoy in this opulent 5-star hotel include:
Luxurious, comfortable, and spacious hotel rooms, suites, and apartments.
A selection of conference and meeting rooms, and access to the Business Centre offering general secretarial services.
24/7 open Casino
A pool club, gym, and tennis courts.
Exclusive dining facilities and delicious local and international cuisine.
Live Entertainment, sun terrace, and garden area.
The Regent Luxury Suites: 
Enjoy a world of affordable luxury at the Regent Luxury Suites located in Ikeja, Lagos. The historic hotel features a restaurant, bar, and Lounge.
Similarly, it also harbors a Conference room, gym, poolside, Regent shop, and guest services which includes:
Complimentary morning coffee
Exclusive concierge services
24 hours room service
Luxury house cars available for transport
Regent preferred guest traveler reward program.
Mercure The Moorhouse: 
If you're looking for local and authentic experiences, then Mercure The Moorhouse is the perfect pick for you. Located in Ikoyi, Lagos, this state-of-the-art 4star hotel offers you comfort, luxury, and affordability. Above all, more facilities to enjoy here include:
24 hours security system
24 hours room Service
4 well-equipped meeting rooms
A swimming pool area surrounded by palm trees that offers a very calm and relaxing ambiance.
WIFI/Internet Access
Private outdoor parking
Wheelchair access
Dry cleaning / Ironing Paying
Boutiques/shopping and a lot more.
Above all, Enjoy up to 40% discount on any of these luxurious Hotels in Lagos. 
In conclusion, visit www.travel.Konga.com or send a direct WhatsApp message via http://wa.me/2348112114488.
Email- travel@konga.com
Call +2348094605555, +2347080635700 for all booking inquiries now.