Showing love often comes easy when both partners are intentional and able to think out of the box. Not everyone celebrates valentine's day in the traditional sense of the word but whether you believe in a celebration or not, it's only right to make efforts that show appreciation on special days like this. Looking for ways to please your significant other this year? Look no further, here are Top Valentine Picks We've curated for you 
Gifts For Him
Michael Kors Black Chronograph Watch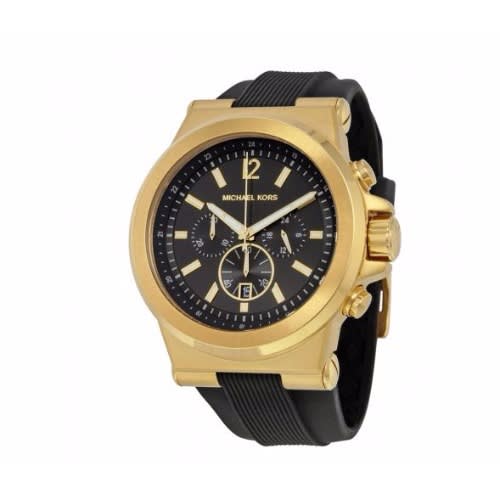 Wristwatches are always a thoughtful gift item because every time you give someone a wristwatch you are giving them something so memorable that they can always look back on. The Micheal Kors Chronograph wristwatch is a world-renowned piece of luxury with an innate sense of glamour and a splash of modern style. It is built in a round-shaped case and made from scratch-resistant mineral glass strapped to a black buckle. In addition to its exquisite design, it is highly water-resistant and can be worn to bathe, swim, and even dive. 
Teeling Whisky Single Grain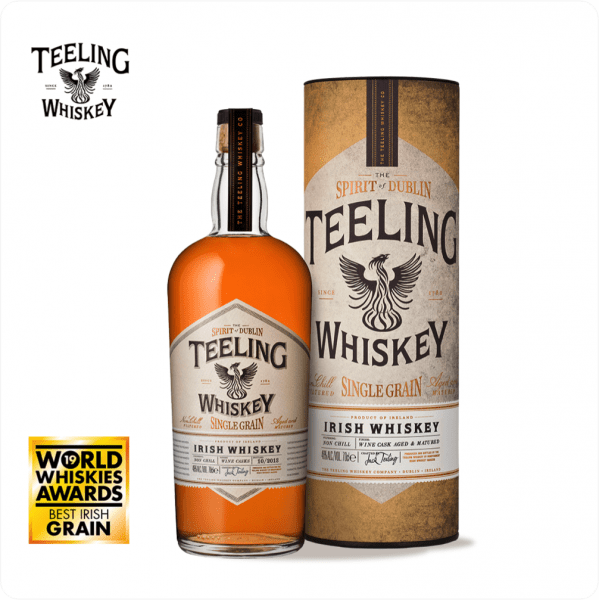 There are very few 'elite' grained whiskeys out there but the rich-berry taste of Teeling Irish Whisky sets it apart as one of those in the top league. This single grained Irish whisky is triple distilled and brewed in an unconventional mash of 95% corn and 5% barley. In addition to this, it is left to mature in French oak casks thus giving it its signature unique taste. The smooth blend of spice and deep berry is balanced out by sweet corn undertones thus making this a valentine's day gift he won't forget. 
Ally Sports Gift Set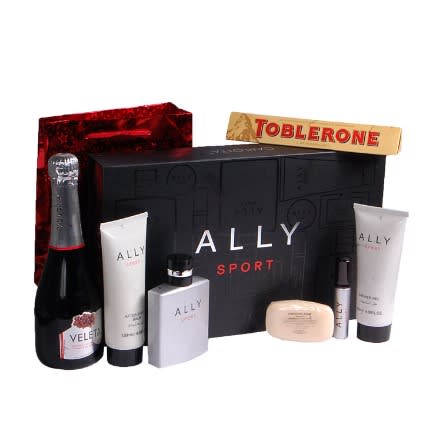 Every gentleman deserves his pamper, that's why the Ally Sports Gift Set has been designed specifically to suit his needs. This thoughtful set includes a large bottle of cologne that strikingly intrigues the senses while giving off bold, woody and musky, notes. This amazing fragrance is accompanied by a small refill, deodorant spray, a bottle of great tasting wine, and exotic Toblerone chocolates. 
D-Jack Home Theatre Gift Set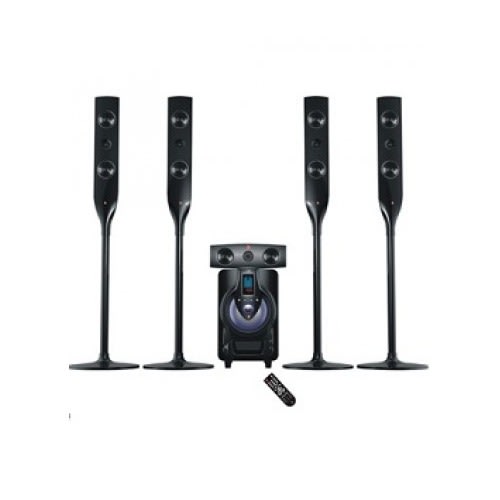 Treat him to some great entertainment with the D-Jack high definition home theater. This set of high-quality speakers is designed both for memorable family moments, and outdoor fun gatherings. Is your man a sucker for great music? Then this right here, is an option he will appreciate. Very few people can resist an impressive audio experience. The inbuilt Bluetooth receiver allows anyone to wirelessly connect via their smartphone, computer, or tablet while they groove on the go.
Giorgio Armani Gold Tone Wrist Watch
This wonderful piece is designed by one of Italy's most famous designers. It features a rose gold crown attached to a well designed stainless edge that exudes sophistication, elegance, and class. Investing in a luxury piece this stylish is certainly one way to bring him closer 😉
Gifts For Her
Elizabeth Arden 5th Avenue Gift Set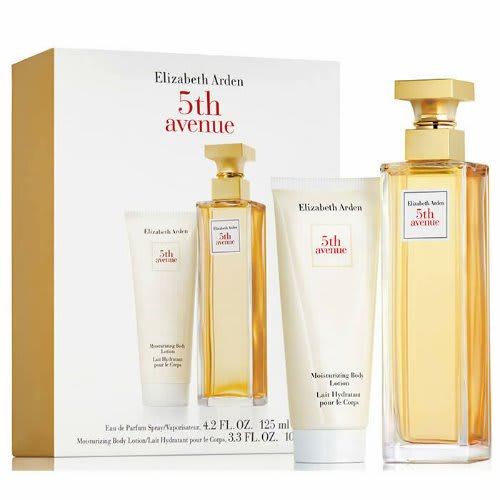 Who says women are hard to please? All you have to do is get her the right fragrance and the rest is history. For valentine's day this year, you can go all out with the Elizabeth Arden 5th Avenue gift set. This phenomenal kit contains a highly moisturizing body lotion. A cologne to keep her smelling fresh all day, and a beautifully designed 100ml bottle of floral perfume filled with the alluring fragrance of lilies, roses, and sandalwood.
Sekonda Gold Plated Gift Set
Jewelry is one of the best valentine's gifts any woman could ask for. I highly recommend necklace sets because just like wristwatches, the perfect neckpiece is a timeless addition to every woman's jewelry box. Looking for the perfect gift? One that would be etched in her heart forever? Then the Sekonda Set is what you need. This solid piece of gold plated stone jewelry is perfectly enhanced by a set of white pearls. It includes a beautiful quartz watch, a scratch-resistant bracelet, and an artistically crafted pendant no woman can resist.
Asus 4GB/128G In Rose Pink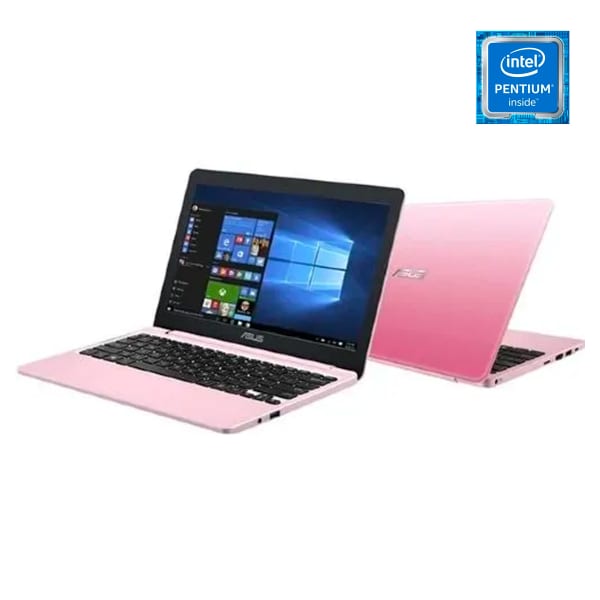 The modern woman is built such that she is able to handle multiple tasks while staying well ahead of her game. Whether it's for work, learning purposes, or keeping in touch with family and friends, the Asus Vivo book offers the best performance. It is built with splendid display technology that optimizes imagery to provide richer colors and a feminine touch of elegance. This compact lightweight 11.6-inch laptop is powered by the latest Intel processor and offers up to 10 hours of battery life. Its full-sized ergonomic keyboard is so comfortable, she won't want to take a break.
Sparkling Hamper Spa Set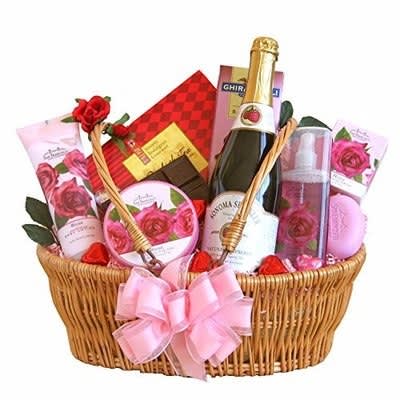 Every woman is drawn to the finer things of life and that includes the sparkling Hamper Spa Set. In this luxury set, she can have everything she needs for a seductively relaxing experience. From shower gels, to moisturizing body butter, milky body bars, and rosy body mist. Not only will she love the beautiful basket presentation; she will also greatly appreciate the floral collection of body products topped off with a bottle of sparkling cider. In addition to all of these, somewhere in this package is an exotic raspberry bar and sweet English tea cookies. 
Edible Valentine Exotic Set
Food is the one true way to the heart. Trust me when I say this snack set is one way to indulge her taste buds. Sweep her off her feet and show you care with nothing but the best!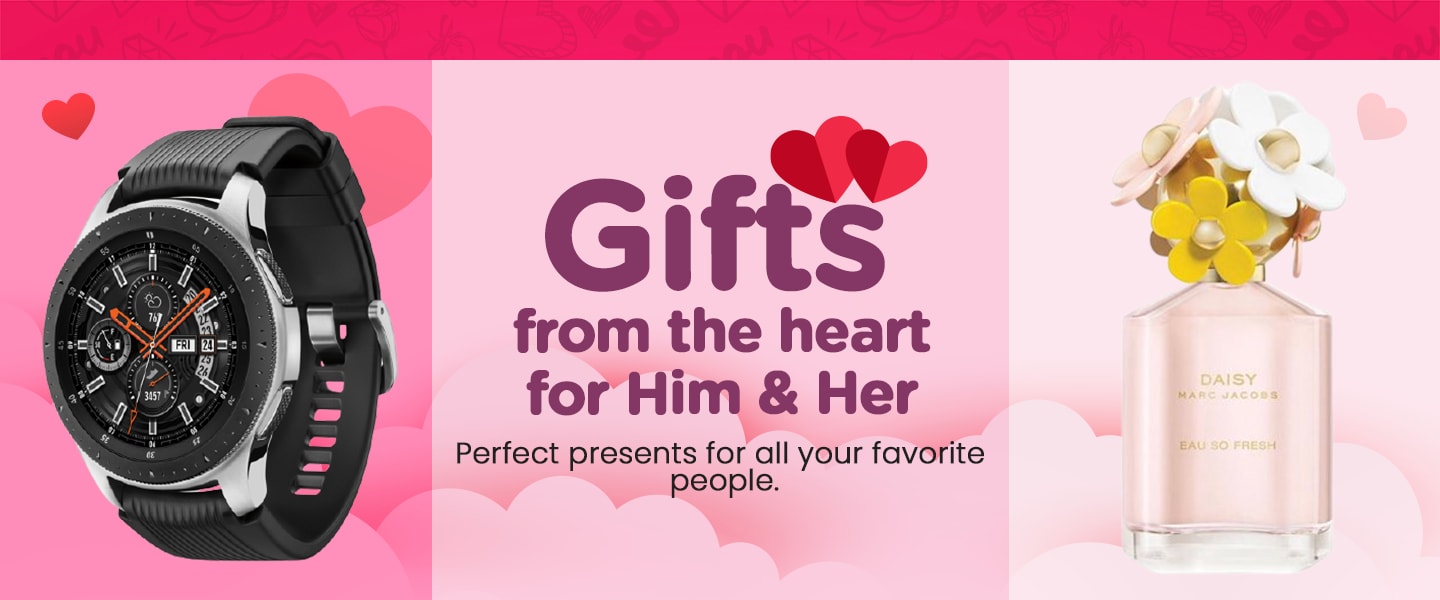 Get the best gifts at a discount this valentine's.
Visit our Valentine Store on Konga.com, or walk into any Konga Retail Store Near you for More gift options this season!
Also, Check out Bundles Below N20,000 and Above N100,000 Here…