OK, so you've finally grown the beard you've always dreamed of and perhaps even paired it with a great-looking mustache, other men are impressed and life is good.
But it doesn't end there.
In fact, the next step – maintaining your awesome look through proper beard grooming – is just as important. It's like finally buying that new gadget you've always wanted. Once you have it, do you neglect it through poor maintenance?  Of course, you don't.
The following is a complete guide on how to maintain a beard. We break it down for you while providing the fundamentals of combing, brushing, washing, styling your beard, and more. Time to get serious, men.
CARING FOR YOUR BEARD
A lot of growing a beard revolves around properly taking care of it. You can care for your beard throughout the day with beard oil and balm. You can train the hairs with a bristle brush and a comb. This will also help spread the natural oil you produce, sebum, throughout your beard. You can use scissors to trim down your beard and mustache, and also get rid of split ends. Keeping it clean is as simple as using beard wash and softener a few days a week.
BEARD OIL
Like the name suggests, this is a type of oil you use in your beard to balance its hydration naturally. Washing regularly keeps the dirt at bay, but it also strips away some of your beard's natural oil. As a result, beard oil was developed as a leave-in conditioning product designed to balance the natural oils in your beard and on your skin.
HOW TO APPLY BEARD OIL
Typically, you want to apply beard oil once a day right after you hop out of the shower. Putting oil on right after you've been in water might not sound right, but it actually is! If you take a warm shower, it'll open up your pores and hair cells, which allows the oil to be absorbed more effectively than it would have otherwise. Just make sure to pat your beard down with a towel before applying it, as this works best with damp beards, not soaked ones.
Depending on the size of your beard, you may need to use a few more drops for major coverage. Huge beards may need 7 or 8 drops, whereas smaller ones may only need 3 or 4.
BEARD BALM
Beard care is constantly evolving. Products are appearing that have never been seen before, such as beard balm (also known as beard butter, beard cream, or beard wax). It's still pretty new so a lot of people may not understand what it is. A balm can be broken down into two different functions: conditioning and styling.
Our Beard Balm functions as a leave-in conditioner, similar to beard oil. Since they have the same function, it isn't necessary to use both.  A balm is going to be a little bit heavier than a beard oil but will provide a longer-lasting conditioning effect as a result of its heavier texture. You should apply it once a day, around the same time you'd apply an oil. Right after a shower is always best for applying moisturizing products because your skin and hair are more receptive to nutrients. If you have a special evening planned, you can apply a small amount again just before you go out.
HOW TO USE BEARD BALM
For most beard men, a nickel's worth of balm will suit you just fine. If you're hesitant, then always start with less (a little of this stuff goes a long way) and add more if needed. Our Utility Balm is made from natural ingredients that melt and solidify at varying temperatures, so sometimes the texture can be a bit grainy. Don't worry – that's totally normal!
Start by rubbing it between your hands until the grains dissolve, then work it through your beard and onto your skin. Not all of it will come off of your hands, so it's encouraged to put the excess in your hair or on dry spots of your skin. U
BEARD TOOLS
Taking care of a beard isn't only about making sure it's clean and moisturized. Sometimes it can grow in strange ways, different directions, or maybe just won't cooperate. That's when you can look to some helpful tools to train, trim, or guide your beard to be exactly how you want it. The essential tool that's important to keep on you or near you is a comb.
BEARD & MUSTACHE COMBS
A standard-sized comb is meant to be used at home. It has the same components as the pocket comb, but it's larger to give you more control. It should be used when you have more time to focus on your grooming routine rather than on the go. Using these combs can really help spread products through your beard evenly and effectively. Whether you use beard oil or balm, the comb makes sure each of your beard's hairs gets coated with your preferred product.
Use a relaxed grip – like you use your toothbrush – so that you maintain the necessary amount of control while you're combing. Next, comb out the beard with an upward motion to "fluff" it away from your face. The goal is to separate the hairs of your beard so you can more effectively get rid of the bed-beard look.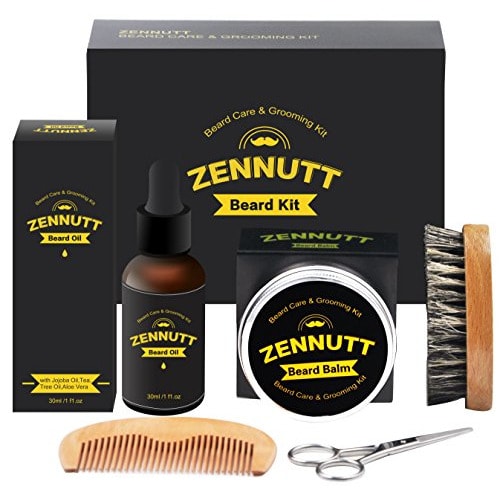 Just a heads up – you're more than likely going to run into snags during the combing process. Snags aren't necessarily knots in your beard but are the result of individual strands of hair growing in different directions and crossing over one another. When you come to a snag, don't try to force it out. Instead, gently pull it out with your comb. Remember, this isn't a race. There are no bonus points awarded for combing your beard faster than the next guy.
After you've combed your bed-beard out layer by layer, comb it back down into the desired shape. You can even use your hands and some product to apply the finishing touches after you've combed it down.
Here are some important notes about brushing your beard:
Be careful when using a brush on a short beard, because you can irritate the skin. If you have a stubble beard or only a couple weeks of growth, brush less frequently until you've grown it out some more.
Brushing acts as a natural treatment for your beard because it helps distribute your skin's natural oils evenly throughout your facial hair.
Daily brushing helps to soften facial hair.
Brushing helps add volume.

Although there are benefits, too much brushing can create split ends, damaging the facial hair you've worked so hard to grow.
SCISSORS
Scissors can be a valuable tool in your beard arsenal. They're not for removing your beard or making huge adjustments on your own, but rather for trimming and shaping it up. We know that the first cut is the hardest, but after that just stick to your plan and you'll be good to go. You may worry that home trimming won't turn out well about halfway through, but you can always reshape it with your trimmers or get it touched up at the barbershop.
CONCLUSION
Congratulations for joining us at the finish line! We hope you've learned some useful information today. There is a multitude of options when it comes to maintaining a great-looking beard. With the right products and the right techniques for using them, we believe that your beard will be a source of pride, confidence, and the envy of many. Beard on, friends!
Click here to shop all you need to maintain a healthy beard.
Go to Konga or Call 0700 700 0000.
Follow us on our social media platforms for more information.
Twitter: @shopkonga
Instagram: @shopkonga
Facebook: shop konga
Whatsapp: 08094605555